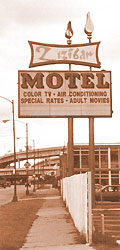 Fuck Motel.
This one doesn't bother to put the blankets on the bed. Just a clean sheet stretched across the bed. Crisply awaiting the next female to be used here.
I lay across the bed; spread my legs, give him the visual cues.
The cold look on his face as he tears down his zipper is assuring that he's a man who is understanding of what a bitvh like me gets used for.
"Bitch!"
I love it when you call me this as you stick yourself inside me,
and experience the feelings of my walls surrounding your dick.
"Bitch!"
I love it when you call me this as you run up in it and
use the walls of my pussy hole
to get that feeling you like.
"Take it bitch!"
"Take this dick, bitch!"

Fuck me
Fuck me like a street bitch
Use the hole
Wreck it!
I like a man who makes me feel his fuck
I need it like that.
Skank bitch!
His searing thick mess spurts into my eyes, and hair.
He backs aside to look at it.
I reach up to wipe it off.
"Leave it drip!" he'll protest. "I like the way you looks, like that."
But there is never time to wallow in his ejaculation.
In the end I'll dress too slowly for his tastes.
"Hurry up!" he snaps. "We only got an hour on this room and I want my key deposit back!"